Daren Waterston
Darren Waterston has been exhibiting his paintings, works on paper, and installations in the U.S. and abroad since the early 1990s. Recent exhibition highlights include: Forest Eater at The Contemporary Museum, Honolulu (2011); Splendid Grief: The Afterlife of Leland Stanford Jr. (2009), an installation at The Cantor Arts Center at Stanford University, CA; and The Flowering (The Fourfold Sense) (2007), at the Hoffman Gallery of Contemporary Art, Lewis & Clark College, Portland, OR.
In 2007 CHARTA published a monograph on the artist, "Darren Waterston: Representing the Invisible", and in 2013 Prestel published a collaboration between the artist and poet Mark Doty, "A Swarm, A Flock, a Host: A Compendium of Creatures." "Darren Waterston: Filthy Lucre," was published by Skira Rizzoli in association with MASS MoCA and the Freer/Sackler in 2014.
Waterston's paintings are included in numerous permanent collections including the Los Angeles County Museum of Art, Los Angeles; Fine Arts Museums of San Francisco; New York Public Library, New York City; The Getty Research Institute, Los Angeles; Seattle Art Museum, Seattle; and Museum of Fine Arts, Houston.
Waterston lives and works in New York City.
For price information for: A Swarm, A Flock, a Host: A Compendium of Creatures, please contact The Bott Collection.
Plate II
Etching, aquatint, and spit-bite aquatint
16 ¾ x 12" Edition of 30
Plate VI
Etching, aquatint, and spit-bite aquatint
16 ¾ x 12" Edition of 30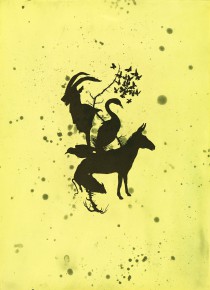 Plate IX
Etching, aquatint, and spit-bite aquatint
16 ¾ x 12" Edition of 30
Plate X
Etching, aquatint, and spit-bite aquatint
16 ¾ x 12" Edition of 30